The Discussion of Celibacy in Early Recovery as Portrayed on Primetime Television
by Eric Robert H.
Seven seasons of egregious acts, lack of concern for others and doing whatever it takes to survive the cold streets of Chicago has immortalized the Showtime series Shameless. The raunchy bluntness of the characters enthralled me while in college and every season finale left me thirsty for more of the Gallaghers. In recent seasons we've seen the eldest son of the Gallagher clan, Lip played by Jeremy Allen White rise to the rafters of academia but endure an insufferable demise alcohol abuse. Alcoholics Anonymous maintains an appeal to "attraction rather than promotion" so it's quite a guilty pleasure to see it depicted in primetime media. As a fan and avid viewer of the show, I identify with Lip extensively – the struggle to balance book smarts with street knowledge; the appeal to better yourself through education despite leaving your family; and the baffling insurgence of alcoholism at all the wrong times.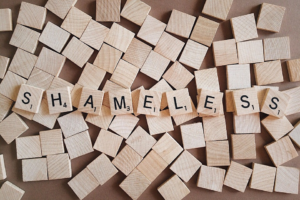 A standing ovation is due as Season 8 of Shameless has found its stride and brings the viewers into the rooms of AA through the eyes of Lip. The character is an archetype newcomer and chronic relapser. This season we find him clinging to the guidance and mentorship of his sponsor and reaffirming his patriarchal seat at the Gallagher breakfast table. In a September 12 interview with TV Guide White discussed Lip's character arch this season explaining, "He's trying to understand himself. He becomes almost childlike in his sobriety. He's really going to his sponsor and his family members and asking questions, not thinking that he knows it all. It's nice to see Lip curious, I guess…I'm not gonna say that Lip's perfect this season because he's not by any means, but I think you'll see Lip thinking about his actions a bit more. Lip is obviously incredibly intelligent, but I think emotional intelligence is a completely different thing, and he often struggles with making the right choices."
(https://www.thefix.com/shameless-star-jeremy-allen-white-talks-characters-newfound-sobriety)
"But how many men and women speak love with their lips, and believe what they say, so that they can hide lust in the dark corner of their minds? And even while staying within conventional bounds, many people have to admit that their imaginary sex excursions are apt to be all dressed up as dreams of romance."
(The Twelve Steps and Twelve Traditions, p. 67)
The rise of Lip's sobriety has brought the icon's sex life to a dramatic pause, something newcomers can certainly identify with. The suggestion to abstain from sex relations during one's first year of sobriety is not a popular topic among us recovering. Members of AA share different, individual belief systems about sex relations in early sobriety. Celibacy may not have been practiced by some of the stakeholder oldtimers in your homegroup. The Big Book of Alcoholics Anonymous is infamous for its description and approach to sex on page, but of course, sixty-nine (69). The great text contends that "God alone can judge our sex situation. Counsel with persons is often desirable, be we let God be the final judge. We realize that some people are as fanatical about sex as others are loose. We avoid hysterical thinking or advice." The reconstruction of one's sex situation is deeply personal and vital to the success or failure of their recovery.
Here Season 8 is near mid-season and Lip is struggling with celibacy. As a newcomer, I can identify with the temptation to reignite the relationship of an old flame and the sobering moment one experiences upon awakening from a fantastical wet dream. It's a total mind f*ck. What the hell does me having sex have to do with me not drinking? I lightly identify as a sex addict. The disease of sex addiction is so pertinent, so relative to substance abuse and addiction treatment a Sexual Recovery Institute was founded in Los Angeles in 1995 by Rob Weiss, LCSW, author of Sex Addiction 101: A Basic Guide to Healing from Sex, Porn and Love Addiction (https://www.addiction.com/expert-blogs/understanding-defining-sexual-sobriety/). The institute is now hedged under Relativity at Elements Behavioral Health as its website Sexualrecovery.com offers information pertaining to sex addiction and the treatment thereof. Now, just because someone identifies as an alcoholic or drug addict does not mean they automatically identify as a sex addict, but you tell a person like me to not even consider having sex for a year and yeah, you are going to see some signs of addiction start to surface.
The Sexual Recovery Institute maintains that "Human beings are naturally geared to make sex an important consideration in their everyday lives, and sex is one of the world's most common pleasurable activities. These facts reflect the core importance of sexual reproduction to human survival. Unfortunately, some people develop a dysfunctional relationship to sex and start to repeatedly use sexual activity, sex-related thinking or sexual fantasy in damaging or inappropriate ways." From a dysfunctional relationship with alcohol, which was involved in most if not all of my sexual encounters, it is no wonder why my sex drive went into overdrive upon entering sobriety. The pleasure receptors in my brain are accustomed to be appeased, if not by alcohol or marijuana then by what? Sex. Porn. Masturbation. Instant gratification. This is a serious issue. It's a classic example of an alcoholic replacing one addiction with another: "As with other forms of non-substance-based behavioral addiction, repeated and excessive involvement in sex can trigger long-term functional changes in a part of the brain called the pleasure center, and can thereby lead to the onset of addiction-related symptoms that mimic or mirror the symptoms found in people who have physical addictions to drugs or alcohol." (https://www.sexualrecovery.com/articles/general-interest/sexual-fantasies-run-gamut-in-both-genders/)
"When satisfaction of our instincts for sex, security, and society becomes the sole object of our lives, then pride steps in to justify our excesses… Unreasonable fear that our instincts will not be satisfied drives us to covet the possessions of others, to lust for sex and power, to become angry when our instinctive demands are threatened, to be envious when the ambitions of others seem to be realized while ours are not."
(The Twelve Steps and Twelve Traditions, p. 49)
We are witnessing Lip face a behavioral addiction head-on. Jeremy Allen White told Vulture his character "grew up drinking and is so sewn into the culture that he doesn't know anything else…The idea of him getting help or not drinking is such a foreign concept." (http://www.vulture.com/2016/04/shameless-jeremy-white-on-lips-breakdown.html) I've concluded that Lip grew up having sex as well. Fans of Shameless have watched Carl Gallagher played by Ethan Cutkosky enter puberty under the advice and in the shadow of his older brothers, Lip the eldest. Thus, it's safe to conclude that sex is "sewn into" his culture. The thing is, Lip like us newcomers is changing the culture of his life. For some of us it's an economic bottom, where financial crisis rendered us homeless and without reserve. For others it's a mental collapse that may have landed us in jail or a padded room on lockdown for 72 hours. Whatever your bottom, it was a direct result of the manner in which we were living. Lip landed in jail as a result of his consumption. He was also admitted to the hospital to be treated for alcohol poisoning. When is enough enough? It's no wonder why I, like him, am willing to go to celibate extremes in an effort to stay sober.
"…our sex powers were God-given and therefore good, neither to be used lightly or selfishly nor to be despised and loathed… In other words, we treat sex as we would any other problem."
(Alcoholics Anonymous, p. 69)
As we courageously "trudge the road to happy destiny" we resolve to stay sober by setting a definitive boundary to abstain from consuming alcohol. In doing so, we work a program of AA under the guidance and experience of a sponsor. When and if that sponsor suggests we treat sex as we would our problem with alcohol, it begs the question: How free do we want to be? See, I think Lip is tired of living below the poverty line. I think he knows a change in his familial environment that results in longevity and sustainability requires a change within himself. I think he's desperate enough to shower the morning wood away and give himself the attention his sobriety requires. We are witnessing a spiritual transformation and though fictitious, we are watching a depiction of God working in a life so similar and painfully relatable to our own. In a recent article titled "Setting Our Abound-aries: Dating and Sobriety" on Thefix.com, columnist Kelly Neville wrote, "A boundary is rooted in a fixed, stable location. Those of us in recovery recognize the need to hold fast to our unwavering boundaries: not one drink, not one drug, not ever again. But boundaries get complicated when people we invite into our lives and hearts straddle our fence line." She's right. Boundaries do get complicated especially once they are explicit, established and present. We invite people into our lives and they invite us into theirs. We need to be prepared and anticipate the rise of mutual attraction. Sobriety is not a cloak of invisibility and nor should it be. It is an opportunity for us to get to know others on a deep, meaningful level absent from the disease of co-dependence that results from NSA or FWB sex encounters.
Remember that non-fiction guy who was so compelled to address sex addiction he founded an institute purposed with its treatment? Rob Weiss, LCSW, provides a sensible strategy for sexual sobriety that he dubs "Boundary Plans" or "Circle Plans". Three boundaries encircle one another: inner, middle and outer. First, the Inner Boundary identifies and prohibits the actual actions that cause us pain. These are the "bottom-line" or "absolutely not" actions like paying someone for sex, having sex with an ex, participating in casual sex and for some of us even masturbating.
Encompassing the first boundary, second we have the Middle Boundary. Weiss describes this phase of the strategy as an honest listing of triggers – people, places, things and ideas that may lead to relapse. This boundary is unique in that is marked by inaction: skipping meetings, missing appointments for therapy and entertaining unstructured free time. Weiss reminds us, "these (triggers) vary widely depending on the sex addict's goals and life circumstances".
The third and largest circle providing a perimeter of protection is the Outer Boundary. This boundary lists short and long-term goals pertaining to the person's aspirations and vision for life. Setting this perimeter of the outer boundary means setting realistic objectives to achieve success as we melt recovery together with daily life. Tangible objectives such as going to a meeting everyday, attending therapy once a week and volunteering on specific dates keep life interesting and enables us to accomplish little things with big implications.  Weiss suggests we also assert intangible objectives that may include things like getting a better understanding of career goals and envisioning where we see ourselves in ten years. ("Understanding and Defining Sexual Sobriety", https://www.addiction.com/expert-blogs/understanding-defining-sexual-sobriety/).
Ultimately, the boundaries Weiss suggests for an addict of the sexual variety require the same thing Lip, like us, was lacking: discipline. In making a case for celibacy in sobriety, Chris Fici argues, "Discipline has fallen out of fashion in our post-post-modern world. In previous generations, it was seen as a rite of passage, or even a calling… now it is seen as a perversion of our natural desires, of our striving for freedom." (https://www.elephantjournal.com/2012/06/a-case-for-celibacy-sobriety-sanity/) I will further Fici's claim and argue that in striving for spiritual and emotional freedom we recovering alcoholics need to inhibit the corporal will of the body. Self-control is required. There's an undeniable elevation of the spirit when the body is controlled, when it is metered in action and forced to succumb to the will of the heart rather than the mind. Consider a performance artist (a background dancer, pop star or Broadway lead). They were not born with the moves or choreography, but they started to practice. For the moves that were difficult they rehearsed under intense scrutiny in the mirror and under the guidance of the producer. When the show commences from the first act to the closing curtain, there's an incredible exaltation exuding thru the pores of the performer as they take their bow. The performance of the body freed their spirit and made them an intricate piece of something bigger, higher than themselves alone. Celibacy can be considered a performance art. We the actors, life the stage, sobriety the script and God the Director.
In the Hindu text called Bhagavata Purana, verdic teacher A.C. Bhaktivedanta Swami Prabhupada wrote "By controlling the senses… one can understand the position of his self, the Supersoul, the world and their interrelation; everything is possible by controlling the senses." The 700-verse Hindu scripture called the Gita maintains:  "But a person free from all attachment and aversion and able to control his senses through regulative principles of freedom can obtain the complete mercy of the Lord." (Fici, 2012)
In closing, I'd encourage anyone in recovery to grab some popcorn and a soda. Sit back and if you have the means, take a look at White's portrayal of Lip on Shameless. Maybe you'll be encouraged like me and discover a sound sense of community that transcends from the Roku of a college dorm to the heights of Hollywood Hills. This disease does not discriminate and neither does AA. Just like the bottle, AA can go anywhere in defiance of the disease that wants to keep us shackled to isolation and social deprivation. In a recent episode, Lip brings members of AA to the door of his friend who just caught his fifth DUI. Upon praying out, let us cater not only to the recovery of our livers but to our hearts by abstaining from the vices of the mind. We turned our sex drive into a weapon. Let's convert it back into a gift, returning it to our higher power from which we received it. This isn't about mind f*cking ourselves, it's about preventing harms and allowing the journey of recovery not to be tainted by other expressions of disease. In closing, there's a fire burning in all of us – we have the ability to control it rather than let it rage out of control causing destruction rather than utility.
References:
"Shameless: What Does Sober Lip Look Like in Season 8?" By Megan Vick | Sep 12, 2017, http://www.tvguide.com/news/shameless-season-8-sober-lip/
"Sexual Fantasies Run Gamut in Both Genders" June 11th, 2015, The Sexual Recovery Institute, www.sexualrecovery.com
"Shameless's Jeremy Allen White on Lip's Heartbreaking Downward Spiral" By Dee Lockett April 1, 2016. http://www.vulture.com/2016/04/shameless-jeremy-white-on-lips-breakdown.html
"Setting Our Abound-aries: Dating and Sobriety" By Kerry Neville 08/21/17
"Understanding and Defining Sexual Sobriety" by Rob Weiss, LCSW on January 19, 2015 in Sex Addiction Expert Blogs
"A Case for Celibacy, Sobriety and Sanity." by Chris Fici  Jun 7, 2012. https://www.elephantjournal.com/2012/06/a-case-for-celibacy-sobriety-sanity/
https://couplesrehab.com/wp-content/uploads/2018/03/Couples-Rehab-3-13.png
880
1920
Admin
https://couplesrehab.com/wp-content/uploads/2022/04/Couples-Rehab-Logo.png
Admin
2018-03-13 11:28:45
2018-03-13 11:28:45
Shameless Sex Sober