So… you're left alone after your husband has left you. Many of you suddenly need to juggle your responsibilities, deal with finances, and raise your children alone, for the fist time in your lives. These are all huge challenges and you need to learn how to prioritize them. Fortunately, there are many ways to cope with this situation. I wish I was a fairy, my dear friends – I really do – but, I am not a fairy & there is no magic fairy dust. But, there is advice out there that may help. Listed below are some tips that may help you cope with your divorce. Read on to learn more, and hopefully you'll learn some helpful hacks to help you heal.
Grieving the end of a marriage
Those who are grieving the end of a marriage may feel many conflicting emotions, including resentment, anger, sadness, fear, confusion, and even denial. The key to grieving is to acknowledge the feelings, but absolutely do not suppress them or bury them. By not expressing your feelings, you will prolong the process and make yourself feel even worse, for a longer period than necessary. Here are some tips for grieving:
Get help. Therapy or group therapy are great options for grievers. Self-help methods may also be helpful. A recent study found that individuals who had divorced or widowed relationships to help them through their loss, experienced fewer feelings of sadness, depression, and loneliness; even when they accessed an online self-help program, or other non-conventional means. For some, finding inspiration in another space like art & discover painting is a way to express themselves – and in life, any distraction you love, can help your mental health. For others, simple journaling can help them process their feelings and work through the difficult feelings that may be plaguing them and their process may be very solitary. Everyone is unique.
Allow yourself ample room for grief. You are worthy of a wide birth to process your feelings at every stage. Grief comes in cycles, with everyone experiencing a different phase of it at different times, that is immeasurable because we are so individual. That means there is no definitive timeline or guide, unfortunately. I am sure you have looked at your ex and wondered why he seemed further along, or behind, in his healing. While one spouse may seem fine, another may break down when thinking about the cause of the divorce specifically, or just the mourning of the death of the relationship in general. For example, one spouse may find it difficult to express his or her feelings, while the other may feel ashamed of being so emotional or ashamed of themselves for being the cause. These behaviors will continue through the grief and there is not controlling the rate, and more importantly, you cannot control how your partners processes at all, Counseling may be necessary and is always recommended. But even then, don't be afraid to let your partner completely go, emotionally at the very least, at this point in order to grieve in his or her own way.
You, yourself, are experiencing several stages of mourning and that's who you need to focus on. Here are some basics; The intensity of grief usually peaks during the first six months of separation. It may continue up to two years. You may go through the same stages again during certain sentimental seasons, such as Christmas and Valentine's Day. The key is to be patient and persistent during this time, and don't let the process overwhelm you. There is always help for everyone and do not ever be afraid to lean on those you love during the tough times. Believe it or not, these moments will help you to move on with your life.
When dealing with the breakdown of a marriage, you must be honest with both your spouse and your children. Even if your spouse doesn't want the divorce, you must remain compassionate. Then, you can discuss the possibility of a divorce without feeling shame or guilt. Even if you are the one grieving, the other spouse can still feel pain. So, don't be ashamed to let your spouse know that you are grieving as well. This is no time to hide, or try to make things nice. Divorce is raw, and in order to heal and move forward you must face it honestly.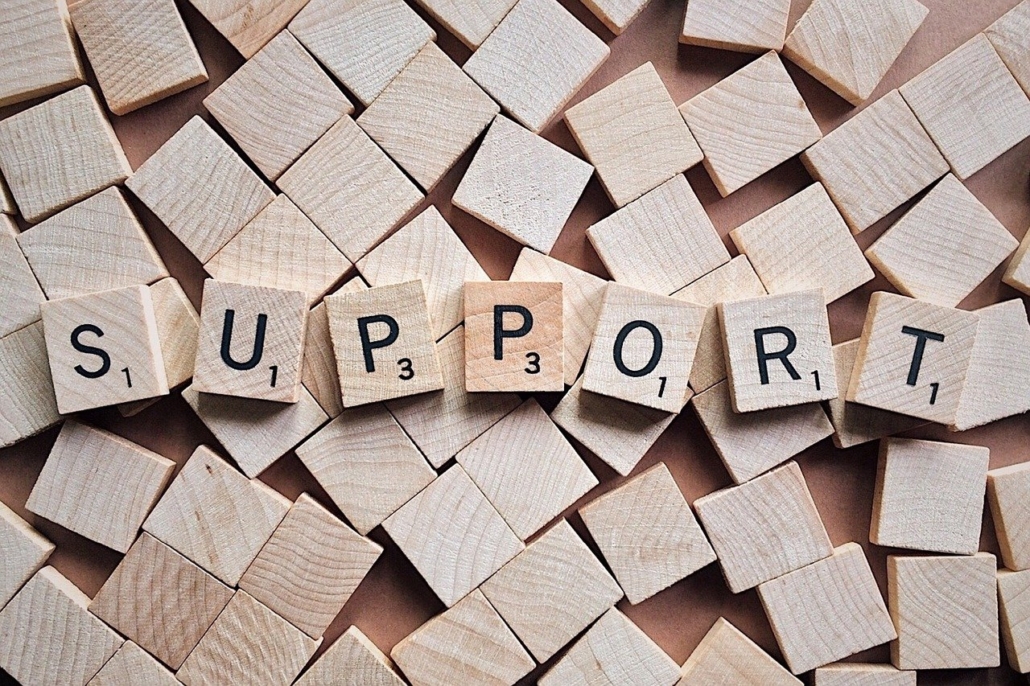 Building a new support system
The difficult process of divorce can be incredibly draining and stressful for both spouses. Divorce presents logistical, domestic, and emotional challenges. Walking away without a proper exit plan, which is what happens in many cases, only makes matters worse. The uncertainty handed to you will lead you to your loved ones and they will be your core support. Reaching out is critical. You may have seen this coming and have a deliberate exit plan, count yourself lucky. Having a laid out legal plan protects both parties from legal and emotional burdens. It is primarily important to take care of your own needs and your own well-being at this time. Be strong and try to keep your emotions in check when it comes to legalities. Use these tips, they may help and be sure you build a new support network for yourself.
Letting go of the past
For many women, letting go of the past is the key to surviving after your husband leaves you. Although it is often a difficult process, it will ultimately help you to create the life you truly deserve. Although every relationship is different, most end when it no longer serves or you have lost trust; that's where most of us lie. When your future happiness depends on a fresh start, letting go of the past will be easier for you.
While this is a difficult process, it is essential for you to realize that the person who left you does not deserve you. The little Fairy I mentioned is unlikely to visit him and make it all better; and you are unlikely to get an explanation from him later. Rather, you will have to face the consequences on your own. Letting go of the past will allow you to move on without your partner. It may take months or even years before you feel that you can get closure on the matter.
Remember, letting go of the past does not mean you are forgetting your loved one. It simply means that your feelings about him are no longer influencing your current path. Human nature has a tendency to point the finger at others for bad experiences. However, you cannot let these experiences determine your future. In fact, they may even help you grow and learn from new situations. When you let go of the past, and face your part in it, you will be able to move on to better situations.
Moving on
The best way, the ideal way, to move on after your husband leaves you is to make sure you say goodbye on good terms. This will ensure that you both leave on with clean slates and that will give yourself the best chance of a future relationship of some sort; which, when children are involved, is the goal. There's no point in wallowing in your ex's pain or trying to guilt-trip him into coming back. He has decided to leave you for his own reasons, which may have had something to do with your interactions with him, but it is unlikely you will ever get an honest explanation and you only will hurt yourself waiting for one.
Literally, the first step to move on after your husband has left you is to try to figure out your new life. You may need to ask for help with housework and childcare, reschedule your work schedule, find a therapist and begin to develop new coping mechanisms. Trying to ignore the pain will only prolong your healing process and worsen your grief, so finding a safe space to express your pain is primary. It will take months, maybe even years, to fully get over your husband's betrayal to your vows.
You may feel like a failure and even find yourself stalled and afraid to move on because you still want to get back the life you had with your husband. The truth is, that is likely never happening. You have to accept that this is not your in your control now, so fighting will not help. Instead, try to accept the decision with grace and allow yourself time to heal. Keep in mind that the marriage is now over but always remember you still have many others that are family and will continue to love you too. By trying these tips, you can make better choices for your future. Hopefully you add them to your box of coping tools… be & try your best, that's all you can do. Your family will thank you for a lifetime in the future, for your good choices today.
Lastly, to close the door completely, you have to let go of that desire to know why. It's not uncommon for a spouse to leave you hanging with questions left unanswered after years of marriage. However, a person who has been in a relationship for decades is actually more likely to be unwilling to offer a full explanation for his decision. It's not uncommon for one to spend years trying to understand why their spouse left and what happened. But this can only prolong the healing process. Many of you will never really know why your partner left and that is okay. Shut the door. That's the final step.
https://couplesrehab.com/wp-content/uploads/2022/05/How-Do-I-Survive-When-My-Husband-Leaves-Me.jpg
1280
1280
Admin
https://couplesrehab.com/wp-content/uploads/2022/04/Couples-Rehab-Logo.png
Admin
2022-05-27 14:52:37
2022-05-27 14:52:51
How Do I Survive When My Husband Leaves Me?